If you're looking for a reason to do boudoir photos then look no further than this list of occasions to celebrate with boudoir photos!
Boudoir photos are often thought to be a frivolous luxury. They can be expensive. If you just don't feel like you have a very good reason to go ahead, jump in, and do it then you must be thinking, "What's the point?"
Well, I'm going to give you a list of pretty important occasions when you should consider celebrating with a boudoir session to help you justify the luxury (we all need a little luxury in our lives from time to time, don't we?).
1) You're getting married or have been married awhile
No doubt, you're absolutely going to knock your partner dead as you glow in that gorgeous dress looking like you walked off a Hollywood set. You unfortunately won't be able to focus on each other at all times during your day, though. But a unique, intimate bridal boudoir book will get your partner uber excited for the wedding night where they can focus on just you. 😉 And what better way to honor your intimate union than to give the gift of 'you'?
Anniversaries are a great time to consider giving boudoir as a gift! Married one year or twenty – doesn't matter! I'm not going to begin to tell you what your love life is like after marriage, but a boudoir book is a great way to refresh their memory on how incredible and brilliant you are and that they need to treat you like a damn queen for your anniversary. The longer you've been married, the more surprising a boudoir book may be! Never hurts to add a little spice from time to time, savvy?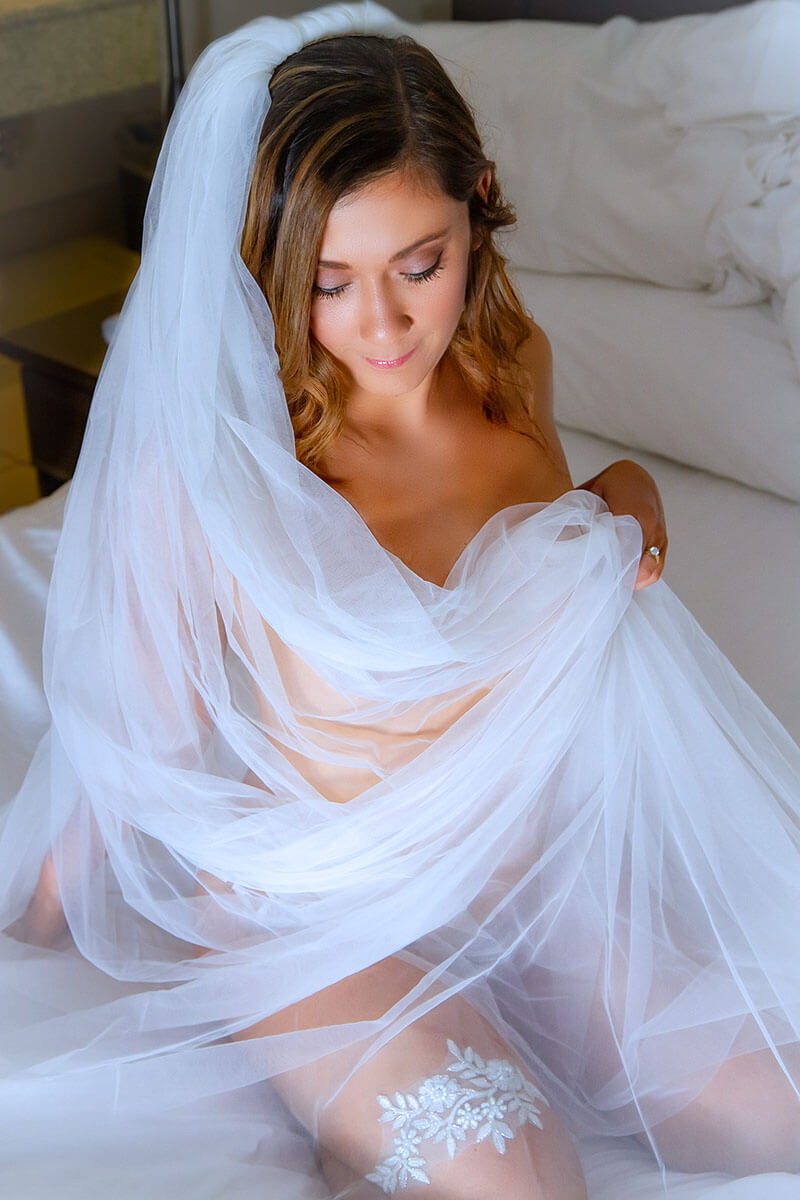 2) You're newly single
No matter how you color it the end of a relationship fucking sucks! It can so easily cut in to your feelings of self-worth (depending on the circumstances), but it doesn't have to stay that way. While this change marks an end, it also marks the beginning of something new.  It marks a fresh start and a chance to show the world the awesomeness that you have to offer in triumphant style! Doing a boudoir shoot after a breakup or divorce is a way to say 'YES' to yourself!
3) You're making a human or have already made a human
You're making a person! That, in itself, is incredible. And YOU are incredible for doing it! Your body is transforming in a beautiful and powerful way and becoming a new person. When you think of maternity photos, I'm sure your first thought isn't "maternity boudoir" except…why not? Maternity boudoir is a beautiful way to honor and celebrate the incredible changes your body is going through.
A changing body can also create some negative thoughts about how it looks (it happened to me). Logically you know your body has to change for this to happen, but the deep seeded body image issues disagree. Doing a maternity boudoir session can help say sayonara to the negativity.
Your body hasn't belonged to you for at least 9 months! And it probably doesn't look the same way it did before (unless you're some sort of model or actress who has a personal trainer on call immediately after you give birth…). Cue the negative body image issues (don't lie, a whole lot of us have them)! Flip the bird to those negative body image issues and embrace your new body, show yourself that you are still strong and sexy by doing a post-baby boudoir session!
4) You've Achieved a Personal Gym Goal
You have worked your tail off (literally) to improve your health. And maybe those improvements have involved eating kale (ew) and cutting sugar! So now that you're where you wanted to be, it's time to celebrate! Not by eating all the cake – though that does sound delicious (haha) – but by doing a boudoir shoot to show it off! With your renewed sense of confidence in yourself, you're going to rock an empowering boudoir shoot. Show it off, gurl!
5) You're celebrating a birthday!
This section was initially about milestone birthdays (you know the 20th, 30th, 40th, etc) but it occurred to me that you don't need to be hitting a milestone birthday in order to celebrate yourself. It could be ANY birthday. But start early and pick birthdays that mean something to you (which is why it's typically the decade birthdays). Rinse and repeat. Here's why.
The stinging truth is this – "You'll never be this young and hot again." Time does march on, and you are going to change with it. The way you deal with the world, how you view it and yourself changes. Your body is going to change and maybe not in ways that you're happy with (cue the negative body image issues), so using a regular boudoir session to celebrate the way your body has changed (whether you view it positively or negatively) can only be considered healthy, don't you think?
Appreciate yourself: who you are, what you have, and what your body can do.
6) You're a Survivor
I can't help but have tremendous respect for anyone who has survived and made it through some of life's most difficult trials – long or chronic illnesses, battling cancer or escaping abusive relationships just to name a few. The long and hard struggles can so easily chip away at how you feel about your own self-worth. It's even harder to get those feelings back to a healthy spot. Though you may not believe me now, I'm telling you. You ARE worth it. You ARE good enough. And YOU deserve to celebrate yourself. Remind yourself who you REALLY ARE!
Embrace your badass, bodacious self and use a boudoir session to celebrate that!
7) ______ (Fill In The Blank)
In the same way anyone can come up with any kind of excuse to NOT do a boudoir session, I'm sure that you can come up with ANY excuse to do a session. It's about you, after all. Create your own occasion to celebrate with a boudoir session!
Okay, fine, it's really 6 occasions. So shoot me lol. But my last point is true. You can create ANY reason to do a boudoir session. Create your own occasion. And when you're ready to celebrate, you know where to find me 😉
Does this sound like something you'd want for yourself? Maybe it's time to book your own boudoir session consultation.
Just check out the Contact Page. You can send an inquiring message via text, email, or you can call and leave me a message!
Don't be afraid to reach out! I don't bite.
Promise 😉
Are you ready to embark on your transformative boudoir photography experience? It's time to celebrate your unique beauty, boost your confidence, and embrace a journey of self-discovery.
Contact me today to start the boudoir consultation process. Let's discuss how I can tailor this extraordinary experience to your individual desires and aspirations.
Don't wait any longer; it's your time to shine. Reach out to me now, and let's make your boudoir dreams a stunning reality!
Book a consultation you can find my contact details on my Contact Page.
Not ready yet? That's okay!
We should become email buddies so you can get in touch with me when you are ready! Just join my mailing list and I'll check in with you occasionally. There might even be some perks to being on the list
.
Join the Badass Boudoir Babes list by inputting your information here.