It hadn't been intended this way to begin with. It hadn't been planned as a Boudoir Party to start, but that was what it became. None of us had any regrets about that!
I had sent a model request to one of my favorite groups of people, asking for models for a specific type of boudoir photo and had a number of people step up to the plate. Not wanting to turn anyone away, I set up a date and time at one of their houses.
R & S: What made you each decide on doing a boudoir session?
Ms. J: Honestly, I know how athletic and gorgeous my teammates are and I wanted Pam to be able to showcase someone that is not as 'Hollywood' as I see them. So she could show women that have had many babies, stretch marks, facial scars, or major weight loss with sagging skin that they are beautiful.
Ms. A: You guys forced me. Haha joking! I thought it might be an empowering experience and it turned out that it really was!
Ms. T: You've (Pam/R&S) been so amazing to work with in the past, so I jumped at the opportunity to model for you! I also thought about taking a few sexy pics for my hubby would be a nice surprise.
R & S: How did you decide on what to wear? Did you have any meaningful accessories?
Ms. J: I chose what I already owned that fit me lingerie wise, my favorite team jersey and the skates my mom used to use at Roller World.
Ms. A: I brought lots to try and didn't really know what to wear. I'm glad I brought a matching set along with many other choices. It was interesting to discover what styles looked best in photos.
Ms. T: In addition to my derby outfit, I wanted to make sure we got some photos in my husband's favorite outfits. I figured a few stunning photos would be helpful in keeping the romance alive. The only accessories I wore were SUPER HIGH HEELS.
R & S: Let's talk about the day of the shoot. Were you nervous? How did you feel being in front of the camera? Did it take you very long to get comfortable?
Ms. J: After living with a photographer and seeing her process I was not nervous. I knew the end goal was to get a few pictures that highlight my own beauty.
Ms. A: I was really nervous and don't often like having my picture taken. Having friends there as well as your (Pam/R&S) calm, comfortable personality really helped me relax.
Ms. T: For me, there was more excitement than nerves. It had been nearly five years since my last boudoir session so I was eager to see how these compare. I love them even more! I think that I'm more outgoing now. After child birth there isn't much need for modesty.
R & S: Tell me about the experience you had during the session. Were the poses what you expected? Did you have fun?
Ms. J: The poses seemed to be classic boudoir. Easy but awkward.
Ms. A: I learned that the pictures are a lot better when I relax. It was harder to hold poses and have a pretty face than I expected. Overall, I found it to be a good learning experience. I think that if I do another shoot, I could do better since the pictures improved as the day went on.
Ms. T: Overall, the experience was fantastic. We had the music going, a bit of champagne and tons of glamour. It was an amazing afternoon! Posing was fun, we both picked out some angles to try and some were more successful than others.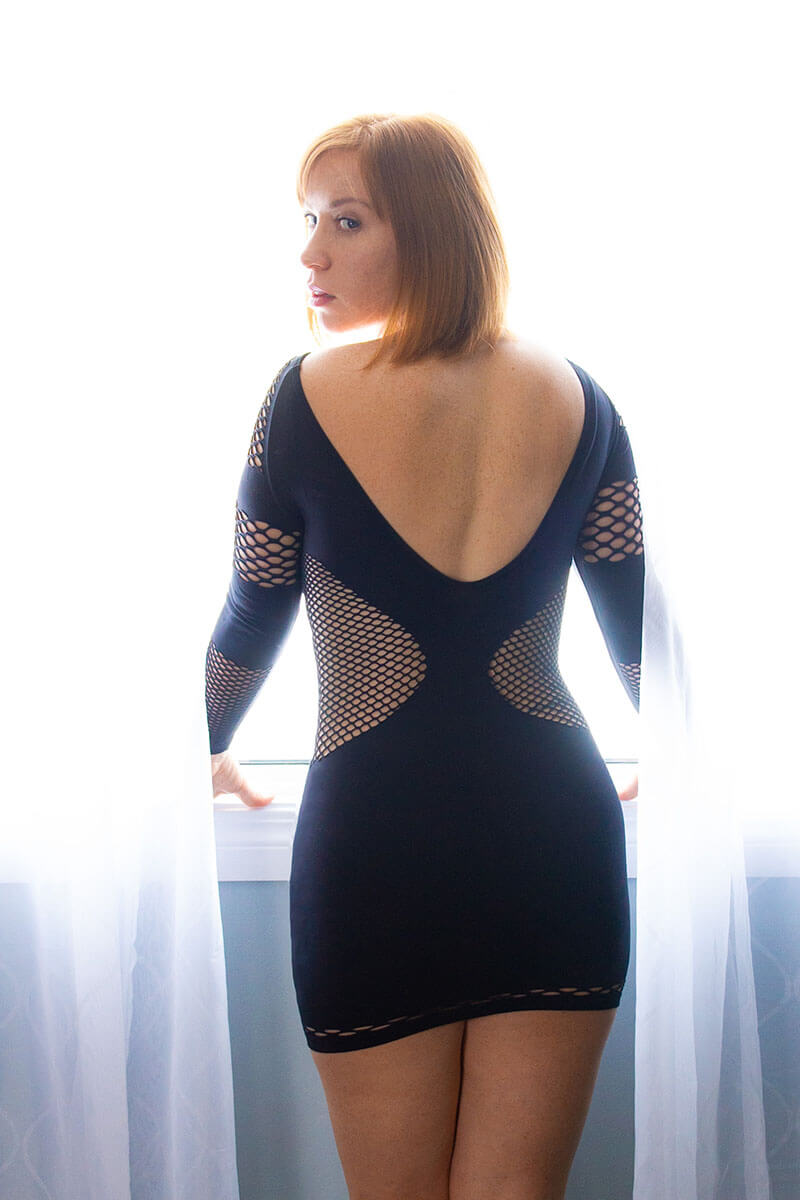 R & S: Were you sore the next day from the poses?
Ms. J: Nope.
Ms. A: A little. It's surprisingly more physically demanding than you'd think.
Ms. T: Nope! I'm an athlete. Lol.
R & S: What were your first thoughts when you saw the images? Have you noticed a mental shift in the way you view your body since then?
Ms. J: I already have a good grasp on my self worth so my opinion of myself has not changed. There were some really excellent photos. I would like to say that the odd glimpse of understandable vulnerability I saw in my friends added a new brave beauty to them.
Ms. A: It was really cool to discover which angles I like and to hear different opinions about what others like, too. A few of the images are so beautiful it's tough to imagine that they are me! I loved that!
Ms. T: When I saw my photos for the first time, I was impressed at how I looked both delicate and strong in many of my images. While I'm quite muscular, posing and lighting softened the images. I've always felt really positive about my body and it was an amazing experience to capture these images five months after giving birth.
R & S: Do you have any advice or tips for ladies who are thinking about doing a boudoir session?
Ms. J: Trust Pam! Go in knowing it is normal to take lots of photos to get a few great shots. Have fun.
Ms. A: Relax, relax, relax and you'll look beautiful. Trust the photographer and trust your body. I also think having a full length mirror handy would help.
Ms. T: Go for it and go all in. Don't be afraid to try things because you may be surprised by which poses or styles you end up liking the best. I would also recommend doing a group session. It's fun to play around with your girlfriends and encourage each other.
R & S: What was your absolute favorite part of the experience?
Ms. J: Getting to know my teammates better.
Ms. A: The music and friends being there supporting me while I tried this new experience.
Ms. T: Being part of a group! It was fun to see how different we styled and posed ourselves. I had a blast playing music and just trying silly things for the camera to see what worked.
R & S: As my first unofficial boudoir party, would you ladies recommend this experience to other women and their friends? What did you like about having your friends there?
Ms. J: I absolutely would recommend this for groups! I felt a new, supportive bond and an understanding that I would not have expected from a few hours in a day.
Ms. A: I would definitely recommend group photo sessions. It's a really fun experience. I think it helped me get some ideas and helped me to be more confident. Thanks, ladies!
Ms. T: Yes, I would certainly recommend boudoir parties! It was fantastic to be silly, sexy and supportive as a group. It was also great to see poses that you may not think of on your own, so from a creative side it was helpful to borrow some ideas.
Is it time to book your teenagers graduation portrait sessions? Then let's chat! All you have to do is send me a message to book a consultation call/meeting.
Contact me using the form here or use the contact information on my Contact Page. Or find me on Facebook/Instagram (links below)!
Don't be afraid to reach out! I don't bite.
Promise 😉