Covid Didn't Stop This Mom From Getting Her Cap and Gown Photos
Covid has messed with a great many things this past year. Grad photos happened to be one of those things for Chrissy and Tyson. Many families didn't get to experience their graduate crossing the stage or getting dressed up for Prom, but Tyson didn't even get to have his Cap and Gown Photos done! They live in a small community outside of Saskatoon and the lockdown was put into effect before their small school of 12 could have their photos done! Both feeling cheated, Chrissy was also sad about all of the things Tyson was missing out on. That sadness mingled with the feelings of pride with the man he was becoming. Her last child…graduating.
Thankfully, Chrissy had me. Chrissy and I have a long history of working together, so when she told me about her son being robbed of his grad experience, including the Cap and Gown photos, we started to make plans for how we could get Cap and Gown photos for her son and the rest of his class.
"When I approached Pam bout Cap and Gown pics, she was very willing to do the same, she was able to have competitive pricing. She was open to ideas and had a lot of ideas."
It was a weekend in June when Tyson and his class gathered at their home where I joined them to create some unique outdoor cap and gown photos for them. Chrissy had purchased a cap and gown with a v-stole in their school colors for each classmate to use (she ordered it from CanadianGowns.com). A few of the graduates used smoke bombs, too, for an extra pop of color!
While I worked with one graduate, the others hung out, had pizza, and shared in one of their final shared experiences as a class. Part way through, I gathered the entire class and we drove out to the dirt road skirting their property, and all of the kids posed in and around Tyson's truck for their last class photo.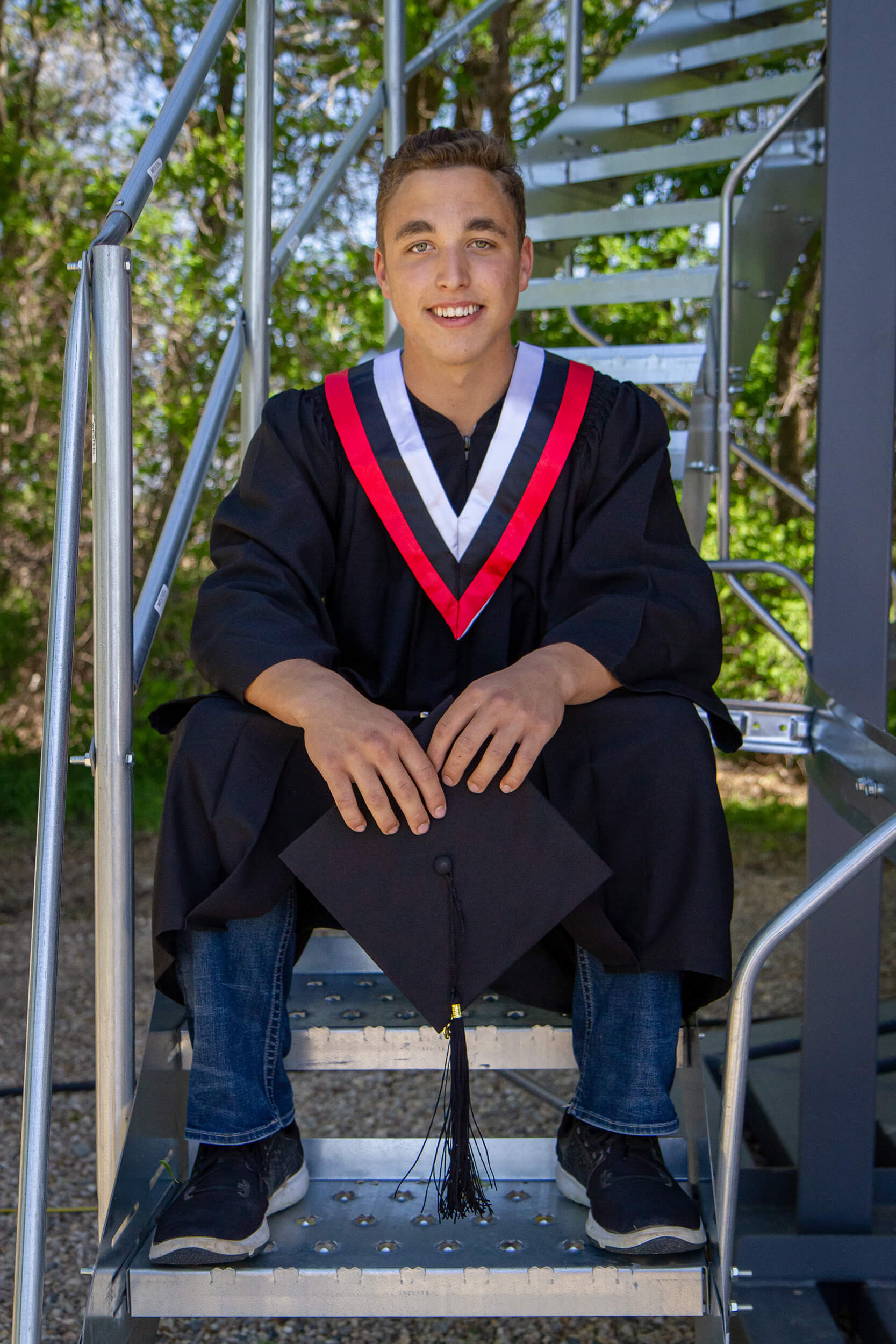 Saskatoon Seniors Photography
"The experience was very good. Tyson had a lot of fun – as much as an 18-year-old boy can have at a photoshoot."
Their school puts out grad announcements using the cap and gown photos produced by the school. In 2020 there were no cap and gown photos from the school. Before the weekend was done, I had the best cap and gown photo from each graduate sent off to the school to use in their announcements.
"Pam was very generous. We were on a time limit with the announcements of grad in newspapers; she got those photos out to the Paper!
"The photos were great and I was so ecstatic that I actually got Cap and Gown pics. I ordered photos for all the family and have them hanging on the wall."
Even though Covid is still preventing large gatherings, Chrissy plans to have a big party for Tyson as soon as they're able. Even if it is a year or two late.
Covid can't stop everything. Especially a mom like Chrissy.
Check out some more photos of Tyson and a few of his classmates from that day.
Is your graduate being affected by Covid? Or did their Cap N Gown photos turn out…not-so-great? Create a unique Cap and Gown experience for them by booking a session with me.
Just check out the Contact Page. Just send an inquiring message using the information there.
Let's celebrate your graduate together!