How To: Take Great Photos of your Teen (or Anyone) with Your Phone
Maybe you're looking for Grad Pictures of your teen, but Covid makes it difficult to afford a pro photographer. Or maybe you're restricting your contacts. This blog will help you take casual photos of your teen (or anyone) to help celebrate their graduation.
Yep, we are still in a pandemic (being May 2021).
We are challenged regularly in so many ways that might prevent you from booking a fun and dynamic portrait session for your teenager.
But let's be real here.
Time doesn't just stop because of a pandemic. Your teenager isn't going to stay a teenager forever and their accomplishments at the end of their high school journey deserve to be celebrated! Especially since education during Covid has been such a challenge and not everyone has thrived throughout.
My recommendation is to, of course, hire a pro photographer to do your teenager's casual portraits or their formal portraits, but I understand if Covid is holding you back from that. Because I firmly believe your teen deserves to have some great photos to mark this milestone, I'm going to give you some tips to help you take some stellar photos of your teenager using just your phone.
Keeping it simple is best. The less to manage the better. You'll need:
a camera phone – I can't think of many people who don't have a camera phone these days.
your model – your teenager, obvi.
a location – it really can be wherever you want, but I'm going to recommend an outdoor location for ease of lighting. 
a free downloadable editing app – I used Snapseed. I'll talk more about this later in the article.
I just want to touch base briefly on wardrobe because this is one of the most common concerns I get when talking to clients. What do I wear?
Let your teenager wear what suits them, but try to ensure they're wearing something fitted. Wearing an entire outfit of baggy clothes is going to make them look larger than they are which doesn't bode well for the longevity of photos. At least one fitted item is recommended (No, shoes and socks don't count as 'fitted' lol).
Also, avoid neon colors. They do NOT photograph well.
Hair and makeup – the gals should definitely do their hair and makeup like they're going on a job interview and the fellas should be clean-shaven.
I recommend taking your images outside for ease of lighting and the variety of available scenery.
You'll want to find the right lighting and that starts with picking the right time of day where the sun won't be directly overhead – either in the early morning or the evening (if you go late enough into the evening you can catch the infamous 'Golden Hour' light as the sun sets). Bright overhead sunlight will create hot spots and deep shadows that are just unpleasant to look at and hard to deal with when you're editing.
If you can't shoot during those times and direct overhead sunlight is unavoidable, then try to pick a location that has plenty of shade. Shade can provide even lighting which is desirable for good photos.
HOT TIP: Overcast days are THE BEST for outdoor shooting. The clouds help to diffuse the harsh sunlight and evens out the light in all locations. So you can shoot at any outdoor location you want!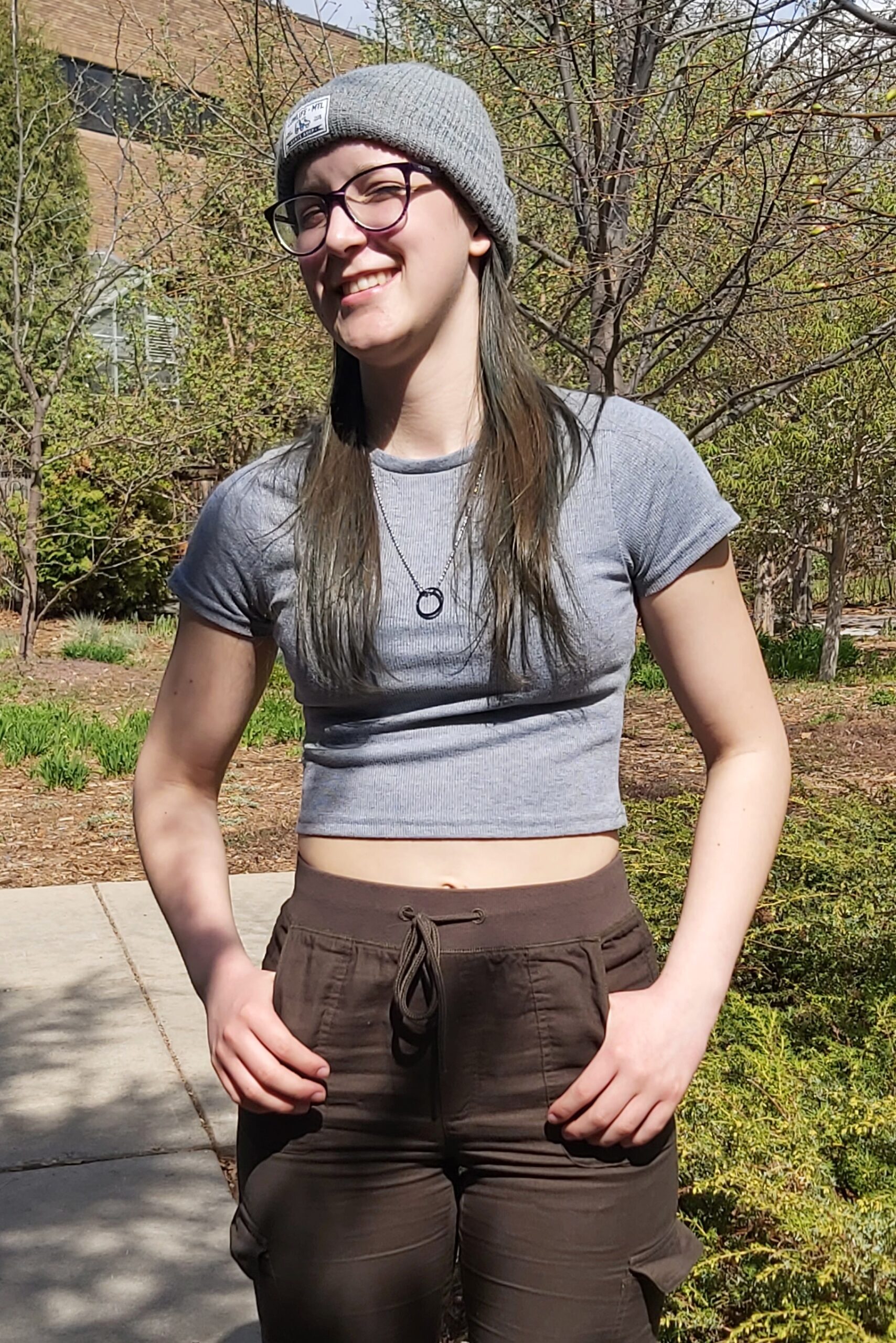 Raina squints at the bright overhead sun. See the hot spots on one side of her face and the deep shadows on the other.
Where you frame your teen in the image is important to the overall appearance of the final image.
You know how sometimes you look at an image and it just somehow seems…wrong? That could be because the image doesn't follow some of the basic composition rules.
Such as the Rule of Thirds. Your phone may have a setting that will help you with this one (mine is called 'Grid Lines' on my Samsung phone). What this setting will do is turn on a grid with two lines running horizontal and two running vertically across your screen. Use these lines by positioning your subject on those lines or where they intersect (if you're doing a closer shot, I would line their facial features up with these lines).
Check out my examples to get an idea of what The Rule of Thirds looks like.
In the two images here, you can see that Raina is not lined up with any of the lines or intersections of the grid. Though she may be centered in the first image, it just lacks interest. And she is way too far over to the side in the second.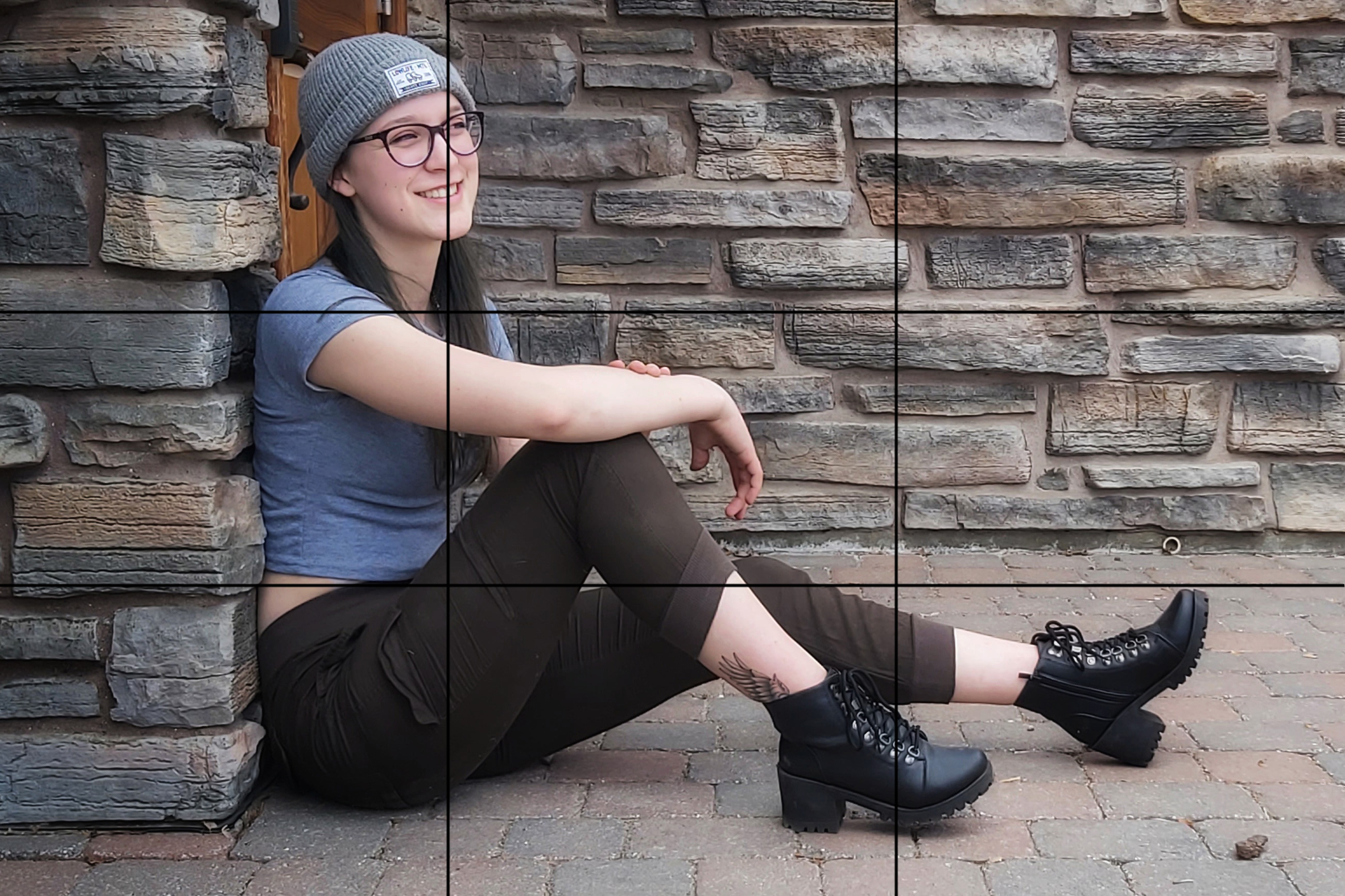 In this image, Raina is lined up with the grid lines. Her features and her body run along one line and makes for a more interesting photo.
*It was silly difficult to take bad photos. It hurt my photographer's heart haha. I did it all for you!*
Another easy-to-follow rule for great composition is to fill the frame. This means zooming in or getting close to reduce how much unused space there is around your subject. All that extra space can be distracting from the subject of your image.
Look at the photos I used for the demonstration of the Rule of Thirds. The first two not only don't line up with the grid lines but there is also A LOT of unused space around Raina. But the third photo is lined up with the lines, and the frame is filled by Raina.
I hope you agree it just looks visually more appealing.
If you want to know more about rules of composition, check out this link.
You've got your gear, the right lighting, the right setting, and your teenager is dressed and ready to go.
Now what? It's time for the poses! You teenager may naturally have their own posing ideas, and if they do, that's great! Roll with it. They'll have more fun if you do. BUT if neither of you is certain, here are a few suggestions that you can use.
I'll go through each pose step-by-step and share the example photo I took of the lovely Raina. All of these poses are pretty easy to get into.
Here are the tips that will apply to all these poses:
To minimize double chins (we all have them) and define the jaw, have them push their face forward (not up), and suck on their tongue.
No slouching. Make sure their spine is nice and tall, and their shoulders pulled back just a little.
Change the placement of hands and the facial expression in each pose to create a different look and feel. Always pose the hands.
If you'd like a few more posing ideas that work well for fellas, check out this blog post.
I'm working on a blog on posing for the ladies and will update this post when I have it.
Let's go!
Saskatoon Grad Photographer
Start standing, facing you. Then turn their body approximately 45 degrees (or you could move a few steps to one side or the other)
Shift the weight to one foot. Fellas can keep their feet hip-distance. Ladies, pull their feet together and bend the knee of the leg their weight is not on.
Pose the hands: Thumbs can be hooked in their pant loops, their pockets, playing with a piece of jewelry or a piece of clothing (such as a jacket or hat). Make sure the elbows are pulled into the body a little and not out like chicken wings.
Turn their face to look at you, push the face forward, and drop the chin a little to help define the jaw.
Do this pose on a seat or bench at your location:
Sit at the edge of the bench, feet hip-distance apart
Lean forward and rest the forearms on the thighs just behind the knees.
Pose the hands: the hands can interlace, overlap or the hand can rest on the opposite forearm which the other hand hangs free, or you can have the hands resting on the opposite thigh.
Post the head: Turn the head away from the camera just slightly but have them slide their eyes toward you. You could also tilt the head toward a shoulder. Don't forget – face forward and chin down a little bit.
Have them squat down and sit on their heels
Then drop a knee to the ground.
To avoid visually amputating their back foot, either turn them slightly away from the camera or you move a step or two to the side.
Rest their elbows on the knee that is not on the ground.
Pose the hands: very similar to the earlier post from the bench – the hands can interlace, overlap, or the hand can rest on the opposite forearm which the other hand hangs free, or you can have the hands resting on the opposite thigh. You can even have them bring one hand up to gently rest their chin on as Raina did.
Pose the face: turned towards you, face forward, chin down a little.
Find a spot where your teenager can sit on the ground and lean against something (a wall, a fence, or a tree work well).
Sit tall against the wall, spine tall
Bend one knee up and close to the chest
Bend the other slightly and point the toe a bit
Rest the forearm across the bent knee and the opposite hand on the forearm.
Have them turn their face to you for one shot and then slightly away for an alternative shot.
Don't forget to push the face forward and chin slightly down when facing you. It's alright if it comes up a little when looking away.
Saskatoon Grad Photography
You don't have to edit your images. If you love them the way they are, then continue to do so!
But, if you want to add a little extra flare then I recommend the free image editing app SnapSeed.
All you have to do is 'Open' any image in your phone's gallery in the app. It will offer you a preset style or you can go into the Tools to really personalize it by adjusting the basic settings like Brightness and Sharpness, or apply any variety of filters the app offers. The only downside to the app is that color adjustments outside of the filters and white balance are not available.
Editing your images can help you forget that your phone camera image is of lower quality. But be careful not to overdo it. Too much editing can distract from the subject (your teen). Ultimately it's about your preference.
Check out some of my other fun edits!
There you have it! Everything you need to know to take some kickass photos of your teenager with just your phone!
Go have some fun!
Keep being the Badass Mama or Papa you are!
Would you rather have me do your teen's Grad photos? We can set up a Casual Portrait session for grads who aren't into formal wear, or a Formal Portrait session for those that are!
Let's set it up! All you have to do is contact me using the contact information on my Contact Page.
Don't be afraid to reach out! I don't bite.
Promise 😉