Ms. R came to me by a word of mouth recommendation for a maternity boudoir session. And why not? Pregnancy is sexy, too, right?
I will never get tired of receiving clients based on word-of-mouth advertising. Ms. R was referred to me by a friend in the roller derby community for some maternity boudoir photos. This lady was absolutely lovely to work with. I had never thought I would ever shoot maternity boudoir. In fact, I really hadn't put much thought in to whether it was something I was interested in or not, but I have absolutely no regrets about working with Ms. R and her baby bump.
What made you decide on doing a boudoir session?
I have no idea. Uhm, just always wanted one done.
How did you decide on what to wear? Did you have any meaningful accessories?
It depended on what fit as I was 7 months pregnant lol. I was wearing my engagement ring and a necklace given to me by my fiancé.
Let's talk about the day of the shoot. Were you nervous? How did you feel being in front of the camera? Did it take you very long to get comfortable?
A little bit nervous, yeah. I felt good being in front of the camera. It didn't take me very long at all to get comfortable in front of the camera.
Tell me about the experience you had during the session. Were the poses what you expected? Did you have fun?
The poses were not what I expected. Everything was a lot harder than I expected. I just thought I would sit there and look pretty. It definitely wasn't that easy. It was definitely work. But I did have fun.
Were you sore the next day from the poses?
Yes, I was. haha
What were your first thoughts when you saw your images? Have you noticed a mental shift in the way you view your body since then?
I was excited when I saw the images. It has kind of made me see my pregnancy in a different way, I could see that I could be a pregnant mom and still be sexy.
Do you have any advice or tips for ladies who are thinking about doing a session?
Drink lots of water and stretch.
What was your absolute favorite part of the experience?
I had a lot of fun at the shoot and I loved seeing the photos after.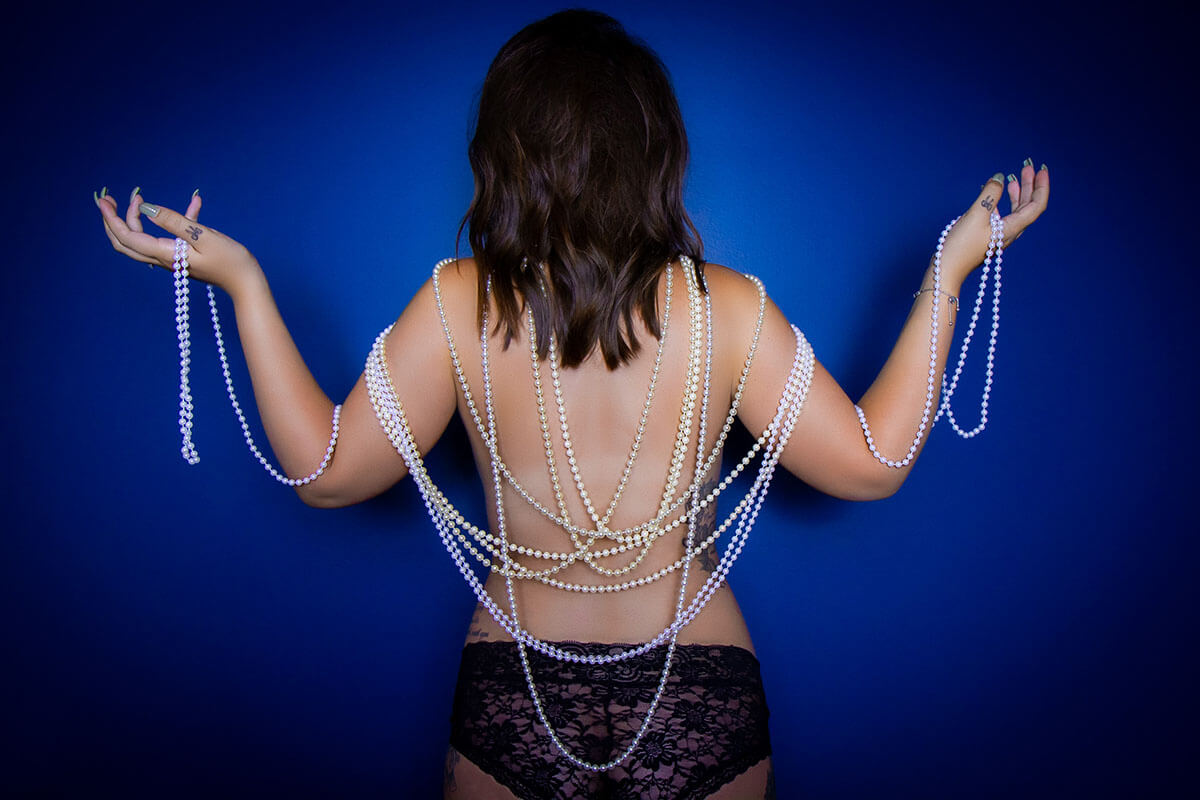 You're interested in a maternity boudoir session now, aren't you? Makes complete sense! I'm your photographer, darlings! I invite you to learn more information about boudoir sessions starting with The Boudoir Experience!
I look forward to working with you and your bump.
Feeling eager to book your own consultation or even book your own session? That's awesome!
Just send me a message using the form right there. 
If you don't want to use that form, that's alright. You can find my contact information on the Contact Page.
Not ready, yet? That's alright. I will be here when you're ready. 😉