As a Saskatoon Boudoir Photographer, I get the joy of working with some incredible clients. Ms. R was one of those clients who remind me why I chose to start doing boudoir. She came into the session absolutely pumped, she was pampered with makeup by Brooke Tokushev of Goddess Beauty and hair by Andrea Jensen, and then absolutely ROCKED her session. Yes, she had body hangups (who doesn't?) but she didn't hold back! And when it came time to show her the final images, she was shocked at exactly how HAWT she looked. She couldn't believe it was her!
As ever, though, I prefer to let my client tell you about her experience in her own words. Have a look.
Saskatoon Boudoir Photographer
R & S: Tell me a little bit about yourself. How old are you? What's your 'situation'?
Ms. R: I'm 35, a married mom of 2 boys and an old doggo, working full time, living the dream lol.
R & S: What made you decide to do a boudoir session? What made you choose me to do your session?
Ms. R: I'd met you through roller derby a few years ago and I'd looked into getting a session but then was lucky enough to win a half-price shoot for International Women's Day! It was awesome!
R & S: Describe your session planning experience. What did we do to prepare you for your session?
Ms. R: This shoot was months in the making. We met prior to the Covid pandemic to go over the 'feel' of the shoot, what to expect, areas to highlight or hide which was really sweet. You also gave me some prompts for clothing and the prep guide you emailed me was a lifesaver. I realized I had to buy a new lingerie wardrobe! I also really appreciated that you asked what kind of music I liked and made a custom playlist just for my shoot!
R & S: How did you feel the morning of your session?
Ms. R: I was terrified! I did boudoir photos as a newlywed about 9 years ago when I'd been playing roller derby for about 2 years and was literally in the best shape of my life. Now, two kids and 6 months into a global pandemic, things have changed to say the least! I had no idea if I could brave the camera or not lol.
R & S: Nerves are often an issue with boudoir sessions. Was there anything in particular you did to ease your nerves before the session?
Ms. R: lol well I debated getting drunk ahead of time, but I figured that wouldn't make for very attractive photos lol. No, in all honesty. I talked to a few friends who had taken photos with you before and without exception, everyone had an incredible experience. I knew I was in great hands!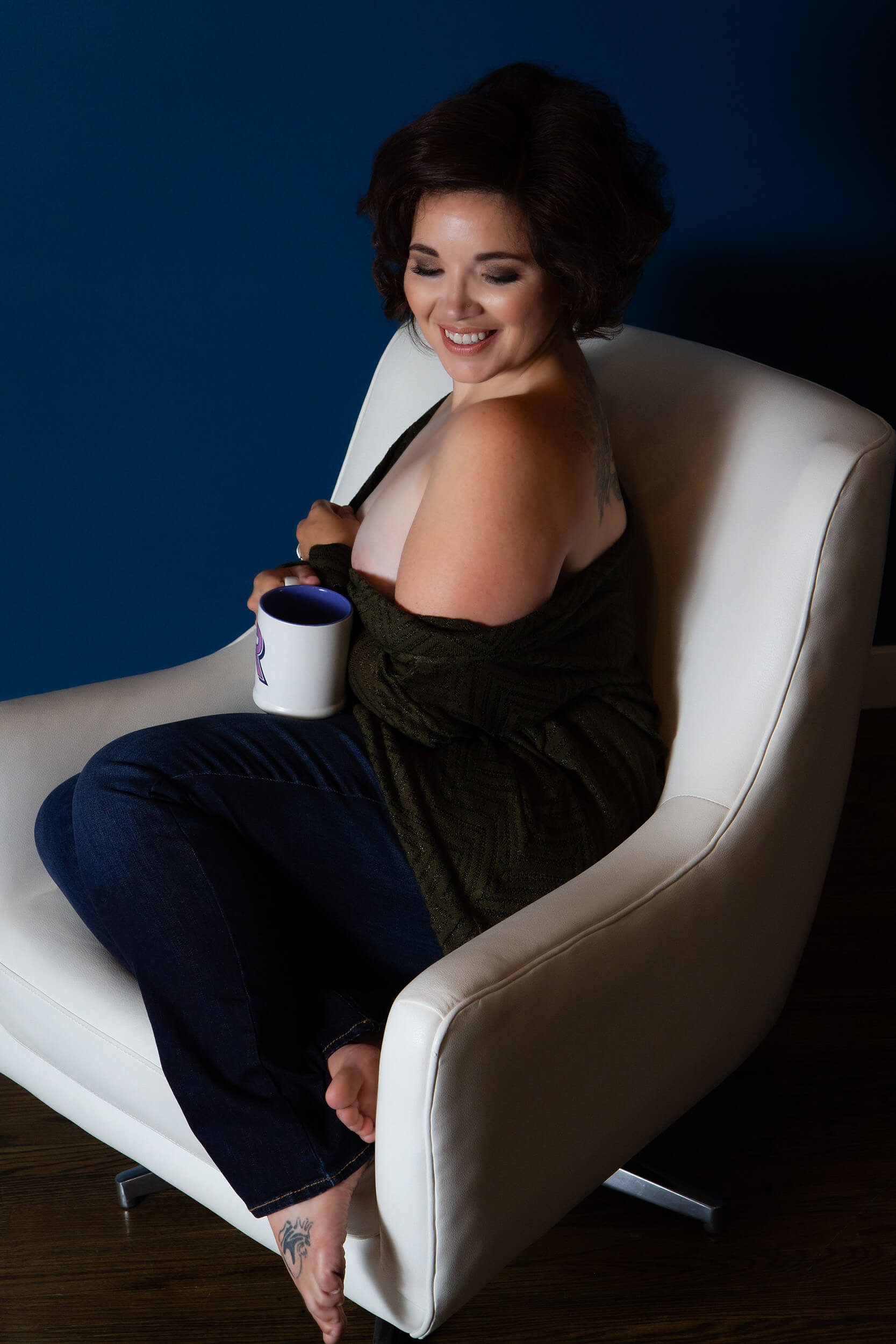 R & S: Did it take you very long to get comfortable in front of the camera? Was there anything in particular that helped you get comfortable?
Ms. R: Shockingly, not at all! Getting my hair and makeup done at the venue felt so indulgent, and since I didn't have to worry about driving between venues, I started relaxing just by getting pampered lol. So once it was time to start taking photos it was really easy to just keep chill!
R & S: Give a brief description of your session and how it went, please.
Ms. R: You had music pumping, snacks, and water bottles on hand. I started by showing you the outfits I'd brought along to get an idea of which order to wear them in! We did a bunch of poses in different outfits and different spots (eg on a chair, against a wall, backlit in silhouette, etc) and you were fantastic for keeping things professional yet funny. I never had to work to smile because you kept me giggling! I really appreciated that you'd offer direction on how to pose because I am NOT a self taker or model and would've felt totally out-to-sea otherwise.
R & S: What was your favorite part of the session and why?
Ms. R: My favorite part is that I did this shoot entirely for myself. I picked outfits that I felt powerful and sexy in, not necessarily what my husband or anyone else finds attractive. It was really a treat to take off the 'mom' hat or the 'wife' hat for an afternoon and be a free agent bombshell lol.
R & S: What was your least favorite part of the session and why?
Ms. R: There were a few poses that I found hard to do but I'm glad I tried them once I saw how they looked on the back of the camera! It was really awesome all the way around.
R & S: How did you feel on your way out the door from the session?
Ms. R: Ummmmm powerful and ready to go, if you know what I mean
!!!
Saskatoon Boudoir Photography
R & S: How did you feel when you saw the final images?
Ms. R: Honestly? Like, I couldn't believe it was me in the pictures while at the exact same time, recognizing myself at a truly visceral level. Crazy, but true.
R & S: Is there anything else about your experience with me that you would like to share?
Ms. R: I had an amazing experience and I'm really glad I did it! Thank you for making it a blast!
R & S: Do you have any advice for other people who might be considering a session with me?
Ms. R: Do it! Don't even hesitate! You will be so glad you did!
R & S: You had your makeup done for this session with Brooke from Goddess Beauty Studio YXE. Were you pleased with the results of your makeup application?
Ms. R: Yes! Absolutely! Super friendly and I loved how I looked!
R & S: Your hair was done by Andrea Jensen for this session. Were you pleased with the results of your hair styling?
Ms. R: Absolutely! It was not my normal style – at all – which, I think, made it perfect for doing these out-of-the-ordinary photos! And Andrea is so friendly and easy to be around!
R & S: Did you enjoy having your hair and makeup done in the studio immediately before your session? Did you feel more pampered because of it?
Ms. R: 300%, yes! Hair and makeup are not in my wheelhouse and it would've been stressful for me to try to figure out how to do or what to do to be able to see it in photos if I'd been left to my own devices lol. Plus getting it done all at the same venue meant I only had to be on time for one appointment and the rest was in the hands of the professionals lol.
Thank you, Ms. R! I had a great time with you and I look forward to shooting with you again in the future!
Check out some more of her images below!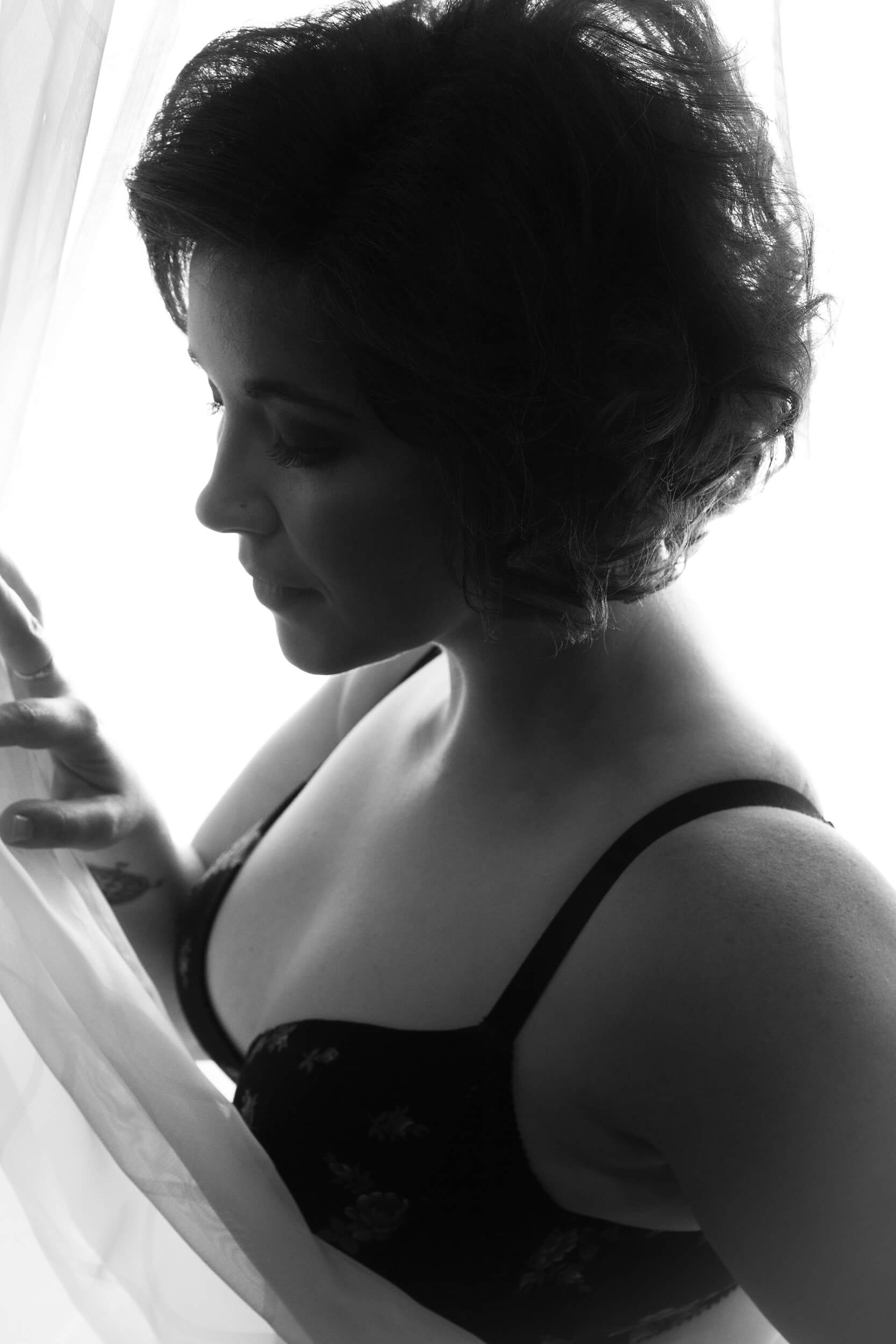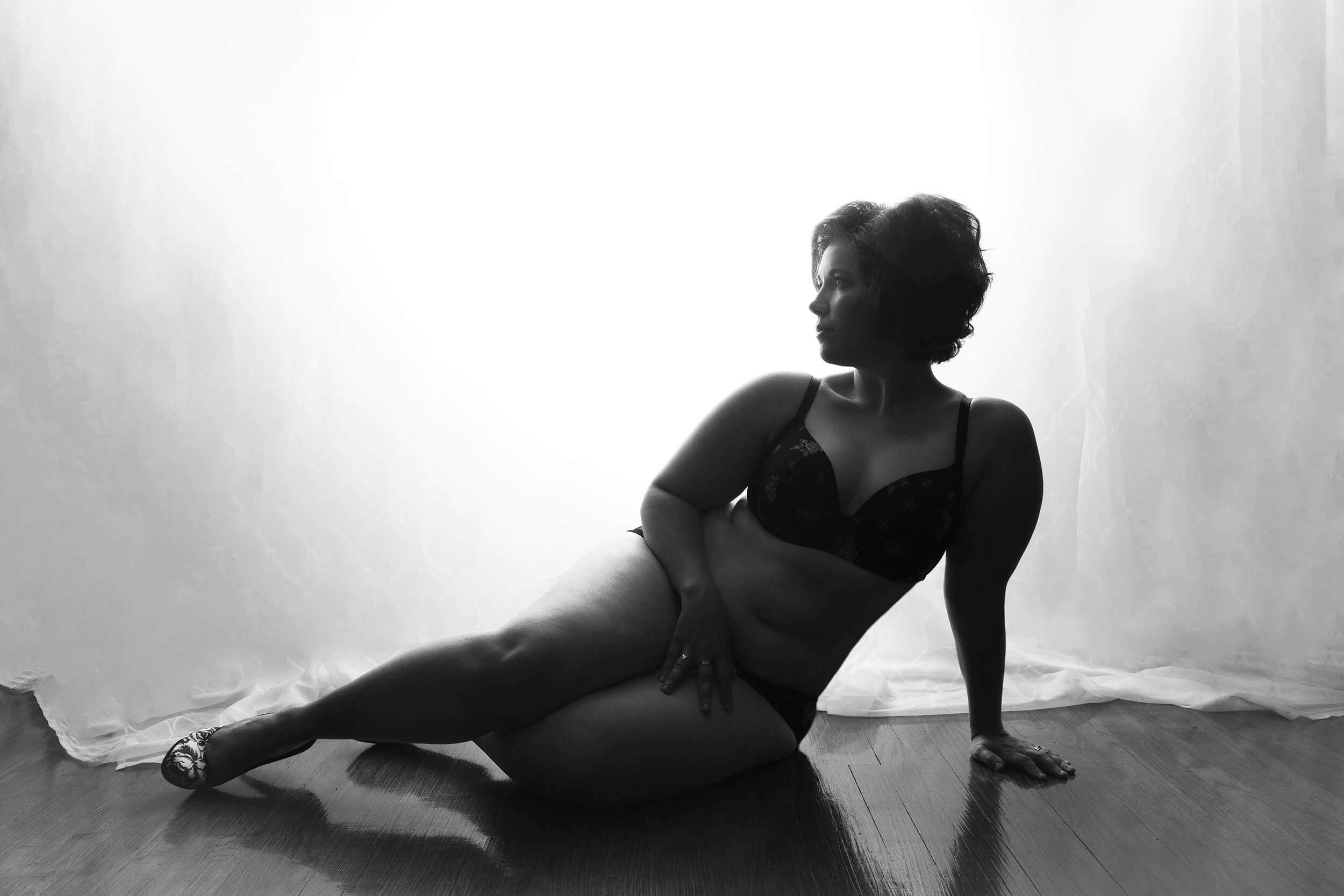 Does this sound like something you'd want for yourself? Maybe it's time to book your own boudoir session consultation.
Just check out the Contact Page. You can either send an inquiring message or you can go ahead and book your consultation time using the booking system.
Don't be afraid to reach out! I don't bite.
Promise 😉